It means the world to us when our customers tell the world about us!

Craig Powell

1 month ago

I have been a loyal customer for years here. I take all my work and family vehicles and Russel and the team take great care of me.

Glenda Randle

2 months ago

Great customer service. Made me feel like a family member. They are awesome. Pricing is affordable.

Michael Hernandez

1 month ago

Very knowledgeable and friendly. Very satisfied with service. I recommend this location to anyone wanting stress free and hassle free service at a reasonable price. Let the experts deal with ur vehicles.

Md Thompson

1 month ago

Great customer service. Transparent with prices prior to performing the jobs. Which is a plus for me. I'm a loyal customer since 2021.

Sarai Lopez

2 months ago

Highly recommend this place. Andre was very professional. Great service.

Leah Townsend

3 months ago

I got an oil change and received $20 off for my first one! Next time I come back I will get 50% off my oil change! Prices are really fair!

Elijah Martinez

1 month ago

Manny is very cool and friendly, quick and professional service. Fair pricing and my brakes are great now. Thanks guys!

Sumeyye A.

1 month ago

It was my first experience with them and it was great. They explained everything clearly and showed me every part they needed to work on. Thank you!

Vincent Llamas

2 months ago

The manager Manny did a great job breaking down what was wrong with the car and helped me get a great price on my repair! Will absolutely return the next time my vehicle has a problem.

Jay Rennie

2 months ago

Alex and crew at store #430 in New Braunfels, TX are the best! Just earned a new customer for life.

Erik Landin

3 months ago

Outstanding service from the staff, anytime I need any brake service this is the only place I will go.

Natalie Hutchens

3 months ago

Very nice and honest workers. Will take you to show you exactly what's wrong with your car. Had a great experience here. Will definitely be going there again!

Miguel Martinez

2 months ago

The brake inspection was explained to me in detail. Very pleased with the work.

Steven Hill

2 months ago

Nice guys, clean place. Very good customer service, will definitely be using them again.

Andy Mcmillan

1 month ago

Always a quick and professional experience. You have a great crew.

Audrey

1 month ago

Quick, affordable and friendly service. Will be going back!

Dan Hayes

2 months ago

Great communication with the customer! It's not easy to find good help these days and these guys were great!

N.G.

2 months ago

Good place, good people. Went in for an alignment and oil change. Staff is always friendly and knowledgeable. Honest service and reasonable prices.

Josh Wilson

2 months ago

Barry was the gentlemen in the front, very courteous. Scheduling appointment online was very easy and they took care of me right away. Good service, fair pricing, all n all good experience.

Kelley Baird

1 month ago

Christian was so helpful, kind, and efficient. Very happy with my visit.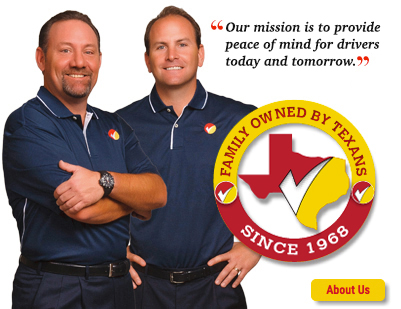 ABOUT US
Brake Check is family owned and operated and has been proudly serving Texans for over 50 years!
The core foundation of our business is, and always will be, to "DO IT RIGHT!" We provide only the highest quality parts and carefully explain the range of options to every customer, allowing you to make the best decision for your vehicle and leave with peace of mind.
We do Brakes, Oil and Alignments right! We'd love to earn your trust today!