It means the world to us when our customers tell the world about us!

Diana Austin

1 month ago

Great customer service. Personable and friendly. You will be in good hands here!

Julie Trevino

1 month ago

I appreciated Aaron's professionalism and loved that I could track from start to finish with the app.

Major Love

1 month ago

Exceptional Service!! I appreciate the way Mike and Rodger helped with prices in repairing my brakes and rotors!! Very considerate & passionate!! I'll definitely return in the future

Hector R. Mendoza

1 month ago

Great service, would highly recommend.! The staff is friendly and super helpful! Prices are adorable.

Lamont Davis

2 months ago

Great experience. Went in for a scheduled appt for a wheel alignment. Brennan, I believe is his name, has top notch customer service and seems genuine

Guadalupe

1 month ago

WOW Amazing fast and friendly service wait time total was only 30 minutes for my alignment. Will be returning for other work in future

Christina R

1 month ago

John was great. He explained each line item, so that I would understand what was needed. So far my vehicle seems to be running smoothly. Excellent service. Transparent repair estimate. Would highly recommend.

Nicole Serrette

1 month ago

It was easy to schedule an appt. When I arrived Christopher was friendly and provided excellent service.

Andrew Dunlavey

1 month ago

I've been here a couple of times and this is the place I'll always come back to. Service is always friendly and quick!

Brittney

2 months ago

All men were gentlemen and I was in and out within an hour or so. And the prices didn't hurt my wallet! Thank you!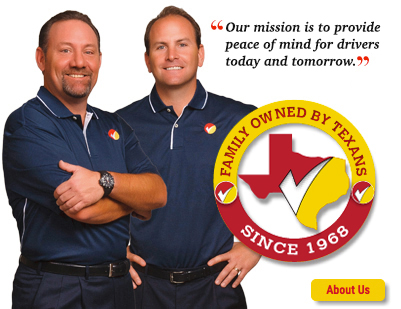 ABOUT US
Brake Check is family owned and operated and has been proudly serving Texans for over 50 years!
The core foundation of our business is, and always will be, to "DO IT RIGHT!" We provide only the highest quality parts and carefully explain the range of options to every customer, allowing you to make the best decision for your vehicle and leave with peace of mind.
We do Brakes, Oil and Alignments right! We'd love to earn your trust today!