It means the world to us when our customers tell the world about us!

TL Williams

3 months ago

Brake Check has some of the best of the best working in the shop. One of them is supervisor 'AL' and his team is awesome. You should check them out!!

Emily Stevens

5 months ago

I was very happy with the service and the quality of the work.

Michael Anderson

6 months ago

The staff was polite and the service was fast.

Emmet Hunker

18 days ago

Matt was stellar! It's great to have a spot in the neighborhood that I can trust!

Effie Torres

4 months ago

These guys get right to business - no fussing around with trivial talk. They tell you 'exactly' what your car needs, and kindly explain why you need it.

Dillion Dickson

11 days ago

Fast service, and hard to beat prices. Refreshing to see a honest group of guys in this industry these days.

Jason Burgess

4 months ago

Dmitri was a great guy. I had a late apt. and he still did the inspection. He invited me to the shop to show me the brakes and components and explained everything to me.

Jack Lambert

5 days ago

High recommend the price is reasonable and the work is done in a timely fashion.

Angela Penton

3 months ago

Alex is fantastic!! The team was able to fix my brakes for $200 less than the first quote. I was able to leave it for the 3 hours necessary and got a text when it was done. Thank you!! Highly recommend.

Cristine Derrick

4 months ago

Very nice staff, wiling to talk out all my questions with me. Found me the best deals and took great care of my car. Will be back!

Jesus Arias

6 days ago

Honest, reliable, people at this place. Fair prices. Really good service.

Janette Lynn Redd

6 days ago

Great company and location! All the guys are amazing!

Angelika

3 months ago

Very professional, honest and friendly. Explained everything in details. They're working hard to get people safe back on the road

Eric Henry

7 days ago

Best customer service hands down! Thorough, communicative, and friendly.

Grace Roddy

4 days ago

Amazing Service! Walked in and they taught me everything!

Kelly Vidmer

7 days ago

Fast, easy and reasonable. No upselling, and they did a great job with my brakes.

Huy Nguyen

3 months ago

Quick and clean brake service. Estimate was clear up front. Invoice and status update are all digital. Plan to come back for routine oil changes.

Frank Medrano

5 days ago

In and out in about an hours time. Service with a smile. Thanks guys.

Angela Hernandez

3 months ago

Always Excellent Service Everytime! Got my oil change and front end alignment done in no time.

Brett Broussard

24 days ago

Travis was great and service was awesome! Super quick! Highly recommended

Keontay Ken

3 months ago

Excellent services. Takes their time to get the job done. Definitely got professional here. Just pull up & see for yourself.

Johan Salazar

3 months ago

It was awesome! All of them were so professional and Travis did the job on my Chevy Tahoe, he was so professional, clean and fast, he really did a great job. Thank you guys I highly recommend this place.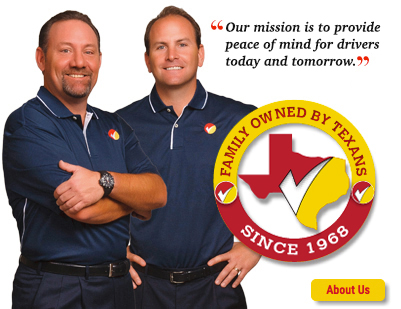 ABOUT US
Brake Check is family owned and operated and has been proudly serving Texans for over 50 years!
The core foundation of our business is, and always will be, to "DO IT RIGHT!" We provide only the highest quality parts and carefully explain the range of options to every customer, allowing you to make the best decision for your vehicle and leave with peace of mind.
We do Brakes, Oil and Alignments right! We'd love to earn your trust today!