It means the world to us when our customers tell the world about us!

Maximus Moroles

22 days ago

They were very detailed and helped me get a better understanding of their recommendations. They did not try forcing me to do anything extra or to purchase anything today. Awesome services and hard to beat prices.

Angelina Castillo

20 days ago

This place always takes good care of my cars. They inform me when I need something replaced and when I don't.

Ann Radcliff

23 days ago

Very nice staff with great customer service.

Donny Fonseca

21 days ago

Great crew, professional, knowledgeable and friendly. This is our 'go-to' for our vehicles.

Renee Lefebvre

1 month ago

Awesome service! Will definitely be my go to for brake, oil change and alignments! And the customer service by the manager was great!

Dennis Delahoussaye

1 month ago

Good parts, good service, no cost surprised and they finished before the time estimated.

Victor Ordonez

20 days ago

They took good care of my truck they took their time to show me everything that was wrong and answer all my questions.

Elsa Davis

22 days ago

The staff was professional, friendly and knowledgeable.

Paul Hoehn

29 days ago

Thank you! Brake Check Always does an excellent job and is honest!

Susan Rogers

20 days ago

This is the best place to get oil changed! They are super nice and have fast service.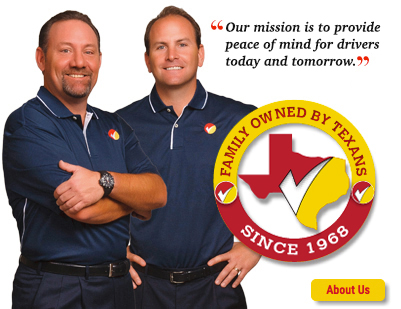 ABOUT US
Brake Check is family owned and operated and has been proudly serving Texans for over 50 years!
The core foundation of our business is, and always will be, to "DO IT RIGHT!" We provide only the highest quality parts and carefully explain the range of options to every customer, allowing you to make the best decision for your vehicle and leave with peace of mind.
We do Brakes, Oil and Alignments right! We'd love to earn your trust today!