Open 7 days a week! | Always FREE Inspections!
Concerning COVID-19
As Texans serving Texans for over fifty years, we will continue to do so responsibly so that we maintain safety on our roads.

As our company responds to COVID-19, the health and safety of our Team Members and Customers remain our priority. On our path forward we are committed to doing business safely.
We are reducing seating in the lobbies, spacing seats 6 feet apart, and providing seating outside for social distancing.

We are providing sanitized key drop-offs for customers wishing to do business via phone call, text or email.

Also, we are encouraging our customers to book their appointments online.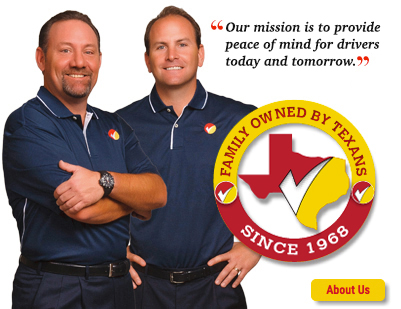 ABOUT US
Brake Check is family owned and operated and has been proudly serving Texans for over 50 years!
The core foundation of our business is, and always will be, to "DO IT RIGHT!" We provide only the highest quality parts and carefully explain the range of options to every customer, allowing you to make the best decision for your vehicle and leave with peace of mind.
We do Brakes, Oil and Alignments right! We'd love to earn your trust today!